March 28, 2023 | Update April 23 – Second Opinion QB has been producing local news for three years, since April 2020 — no advertising, no paywalls, not supported by taxpayer handouts or by social media corporations.
Local, community-focused not-for-profit journalism. Fact-based, in-depth stories and analysis that you won't often see elsewhere, stories that matter to Qualicum Beach and to our quality of life.
WE ARE NOW ACCEPTING DONATIONS to help offset the costs of services to produce Second Opinion QB. Donations may be made by Interac e-transfer to editor@secondopinionqb.ca. Please put your email address in the message so that we may send you a thank you note. We intend to offer an online donation option soon.
The following articles help explain why independent local media is so important to Canadians — especially where we live, in our own communities. The articles appear here with permission of the authors. — Editor
Montreal Gazette – A case for the local ownership of community news media by Magda Konieczna, Assistant Professor of Journalism at Concordia University in Montreal.
Trudeau's fight with Google won't save Canadian journalism by Dru Oja Jay, publisher of The Breach, former publisher of the Dominion newspaper, and a co-founder of The Media Co-op.
---
MONTREAL GAZETTE – A case for the local ownership of community news media
Montréalers awoke on Feb. 16 to the news that a local businessman and lawyer was trying to buy the Montreal Gazette, the city's only anglophone daily newspaper.
No doubt many missed this news in the swirl of information at our fingertips, especially considering the Gazette is now a mere shadow of its former self.
The latest indignity the Gazette faced was a series of layoffs. Initially, 10-12 layoffs were expected, but the hit was scaled back to six after public pressure, leaving just 32 journalists and three managers covering a metropolitan area of four million.
This marks a tremendous change for the Gazette, whose well-known writers have included Order of Canada recipient Mordecai Richler. Its fame has even been enshrined in bronze, in the form of a statue of a man reading the newspaper that stands in one of the city's anglophone enclaves.
News industry challenges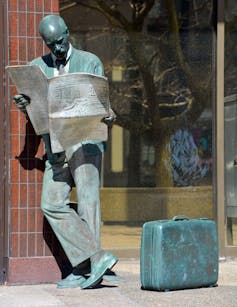 The Gazette has suffered the familiar challenges of the news industry. It hasn't been locally owned since 1968 when it was bought by Southam. A list of chain owners followed: Hollinger acquired it in 1996, Canwest in 2000 and Postmedia in 2010.
In 2014, 100 people lost their jobs when printing was outsourced. But the real damage came after Chatham Asset Management, a New Jersey hedge fund, acquired a two-thirds stake in Postmedia in 2016. The New York Times reported that Postmedia cut 1,600 jobs across Canada in the first four years of Chatham's ownership.
As a society we have expressed concern about newspapers that have closed — 470 of them since 2008 in Canada, according to the Local News Research Project. But we are increasingly paying attention to the growth of "ghost newspapers" — publications that still exist, but whose newsgathering activities have shrivelled to almost nothing.
The Gazette is certainly not a ghost, producing lots of excellent local coverage every day, but it's undoubtedly trending ghostward. We also know life is worse in communities with less local news: local journalism increases voter turnout, reduces polarization and saves communities money.
Mitch Garber's offer
This brings us back to the businessperson who offered to purchase the Gazette in February, Mitch Garber. He is an investor and a minority owner of the Seattle Kraken NHL team.
When news of the recent layoffs broke, the Gazette staffers reached out to him for help. In a series of since-deleted tweets on Feb. 15, Garber declared he would consider buying the newspaper.
"I never really wanted to own a newspaper," he told CJAD radio. "Do I have a plan? No. But I want to do what I can to help," he told The Rover. "I am a capitalist, I believe in smart investments and I know that investing in the print news business isn't a big money-making investment. But some things are more important than money and I think this city needs an English language daily."
Postmedia CEO Andrew MacLeod dismissed the offer, noting that sharing printing, distribution and stories across newspapers makes it hard to remove one of them.
It's worth taking Garber's suggestion seriously, even if not in the short term. Chain ownership might lower costs. If the purpose of a newspaper is to build up local democracy, it's important to consider what the true cost of these savings is, and whether they outweigh the tremendous shrinkage of the newsroom. I know what my answer is.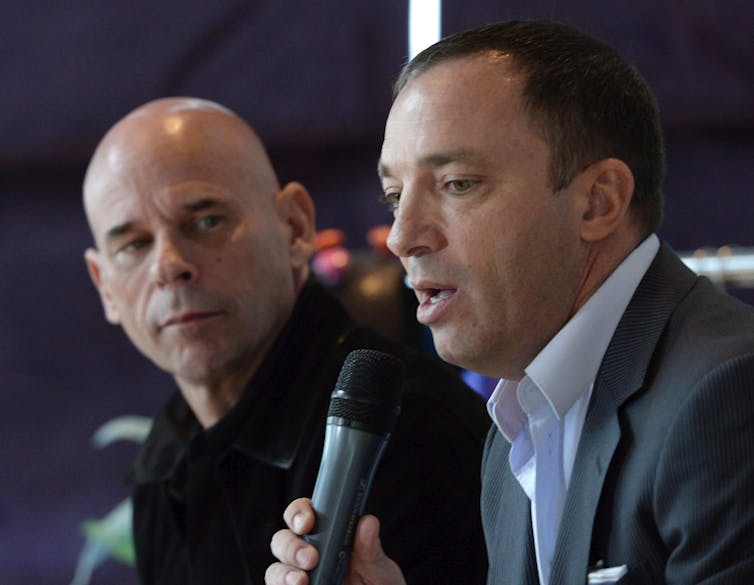 Although Garber has invested in a range of industries, he appears to have no background in media. "Some things are more important than money," is a promising statement, and anyone who is willing to put their own money on the line to save a community asset has my attention.
But individual owners can be capricious. While local ownership, no matter its structure, brings a level of accountability to the news business, it is worth taking a moment to think about how to actually build a more responsible, community-focused news source.
Are non-profits the future?
The Gazette's local competition offers examples worth examining. La Presse, a French-language, online-only publication became a non-profit in 2018, meaning all profits generated are put back into the editorial process.
La Presse's owners left $50 million in its accounts before the conversion and its circulation has been rising.
Le Devoir, a French-language newspaper published in Montréal, has been owned by a non-profit trust for over 100 years.
Joseph Atkinson left the Toronto Star to a charitable trust in 1948, a move that was overturned by government legislation, but whose charitable spirit was preserved through the trustees who owned it until recently.
And reaching further back, revenue from the operations and eventual sale of the Toronto Telegram helped support Sick Children's Hospital. (Today, of course, it's newspapers that are the charity case.)
South of the border also has plenty of interesting examples. One of the oldest examples is the Tampa Tribune, left to a trust by its owner.
H.F. Lenfest, a prominent businessman and benefactor, created a non-profit to house The Philadelphia Inquirer in 2016 to ensure the newspaper would remain locally owned. Lenfest also created the Lenfest Institute for Journalism that same year to fund local journalism.
This non-profit has contributed to what is one of the most vibrant news ecosystems in the United States, a goal that all newspapers should strive for. Anyone talking about bringing a chain newspaper local would do well to examine the history of The Philadelphia Inquirer.
News media sustainability
Postmedia is perhaps doing us all a service by putting the brakes on Garber's offer. The chain has put together an advisory council to work on promoting the sustainability of the newspaper.
While a little late, this might be a move in the right direction for what should be a community-focused organization. If we're serious about it, Montréalers would do well to put together our own process to figure out what we want and need from the Gazette. Perhaps this could even lead to a standing community advisory board, a check that a new owner would do well to encourage and listen to.
In any case, we can expect little from Postmedia, especially while Chatham Asset Management is involved. Local ownership seems worth a try. Garber seems like a good candidate, and he would do well to read up on what's worked elsewhere so that he can ensure the Gazette remains an important local asset.
Magda Konieczna is an Assistant Professor of Journalism at Concordia University in Montreal. Republished with permission. This article was originally published: March 8, 2023 in The Conversation.
---
Trudeau's fight with Google won't save Canadian journalism
By siphoning tech profits for the corporate media, the Liberals are the ones making a 'terrible mistake'
It was a shot across the bow. In a warning of potential escalations to come, Google disabled news search results for a small percentage of Canadian users. "We're briefly testing potential product responses to Bill C-18," a spokesperson said in a statement emailed to journalists.
Based on an Australian law, Bill C-18 would force tech companies to pay Canadian media outlets for the news they distribute and profit from. The government says it will "level the playing field" between global platforms and Canadian media, which is a wasteland of mass layoffs and shuttered outlets.
Prime Minister Justin Trudeau and Heritage Minister Pablo Rodriguez took pains to appear affronted by Google's move. In an unprompted addendum to an unrelated press conference, Trudeau lectured Google about its "terrible mistake."
The government is going after Google's profits for good reason. The company commands around 50 per cent of all Canadian digital ad revenues, siphoning billions that had been the lifeblood of news media.
But branding the Liberals as champions of journalism is premature at best. In fact, they're squandering the single biggest opportunity in a generation to set up truly public interest journalism, choosing instead to prop up corporate outlets like Postmedia as their credibility plumbs new depths.
The duopoly's new model
Google's ascent over the last decade mirrors a precipitous decline of TV and print advertising and the closure of hundreds of media outlets over the same period.
There's not much to mourn about the flush corporate outlets of the 1980s and 90s. Journalists were more numerous—and in many cases, better paid—but most of the money went to the fortunes of the owners, with a percentage off the top for executive salaries, gilded offices, expense accounts, and three-martini lunches.
Today, Google and Facebook's massive revenues are amassed without the benefits that came from the previous wave of media: they don't create any content, they just deliver it by hijacking readers' attention. The dominance of the Google-Facebook duopoly—which controls 80 per cent of digital ad sales in Canada—offers an unprecedented clarity: market power has been decoupled completely from social utility. Their extraction of ad profits is unadorned by the prestige of journalistic institutions that protected the media moguls of yesteryear.
The first country to pass a law like Bill C-18 was Australia. Their law requires Google and Facebook's parent company Meta to strike payment deals with media outlets designated by the government. And if they can't come to an arrangement, the corporations face hefty fines.
The result in Australia is an estimated US$140 million in new funds for media outlets. The money is distributed mostly through secret bilateral deals between Meta, Google and various media outlets.
Adjusting for Canada's larger economy and assuming the total take is similar, that would put Canada's slice of duopoly revenues in the neighbourhood of $180 million per year. That's enough to hire 2,500 new journalists, increasing the national total by around 20 per cent—if it's spent correctly.
Redirecting tech profits to corporate raiders
Controlled by a New Jersey hedge fund staffed by generous donors to right-wing campaigns, Postmedia is known for keeping a stable of noxious right-wing columnists, but less for its commitment to public interest journalism.
But if Australia and Canada's previous efforts are any precedent, the primary beneficiaries will be companies like Postmedia.
And yet, Postmedia has been a prime recipient of government largesse.
In recent years, the company has cut hundreds of jobs, closed dozens of outlets and shut down a union drive among its workers. During the same period, Postmedia hoovered up millions in journalism subsidies and COVID-19 relief funds.
The cuts are not finished. In January, Postmedia cut 11 per cent of its editorial staff.
Far from investing in journalism, most of its revenues have gone to debt payments—an estimated $127 million over a two-year period, according to The New York Times. In its 2020 annual report, Postmedia boasted about the millions in tax credits, subsidies and COVID relief funding it had received.
Profits first, news second
What about the new players who say they are investing in journalism?
Overstory Media Group (OMG), controlled by tech centi-millionaire Andrew Wilkinson, has been acquiring media outlets from coast to coast. A pitch deck leaked to The Logic revealed that OMG called the government its "silent partner," noting that journalism subsidies cover a quarter of their journalists' wages in eligible positions.
But OMG's plans to create what they call the "Chipotle of news," has been received like an overripe avocado. In the midst of a union drive, the company fired editorial staff at its flagship publication and signaled plans to pivot away from public interest journalism.
While the Liberals' plan to dole out millions to legacy media owners and tech bros may yet turn out to be politically advantageous, their schemes share a glaring, systemic shortcoming. If you give money to for-profit companies that cover the news, the money will go to profits before it goes to journalism.
Deals will be kept secret
It's hard to know what Google's end game is by "testing" blocking users from Canadian news. Google pulled a similar maneuver in Australia, deprioritizing news links for some users, while Facebook "went dark" for news content for a while.
Did the duopoly benefit from these tactics? It's impossible to know because the terms of the deals Meta and Google struck in Australia are secret, as they will be in Canada.
What we do know is that smaller outlets in Australia had to fight to get anything at all. A coalition of local publishers had to rely on a billionaire's foundation to get Meta and Google to even return their calls.
The opportunity to channel funds into non-profit media—that exist to serve their communities, not investor returns—is right there.
For decades, non-profit news organizations have punched above their weight on shoestring budgets. It's not just community TV and radio stations using the non-profit model—large newspapers like La Presse, which went non-profit in 2018, and new media outlets are generating informative content without generating profits. In underserved U.S. markets, non-profits have proliferated.
If the duopoly's spoils were earmarked for non-profit news with democratic governance, the sector would blossom, ensuring that the money is actually spent on much-needed coverage.
By using Australia's model, Canada has missed an opportunity to pour tech money into non-profit, public-interest journalism that strengthens a fair and independent Canadian press, while creating stable jobs. The duopoly responsible for setting journalistic institutions on fire for the last decade should indeed hand over their profits for the public good—just not to the people who are looting the buildings as they burn.
By Dru Oja Jay, the Publisher of The Breach. He was the Publisher of the Dominion paper and a co-founder of the Media Co-op. He is the co-author, with Nikolas Barry-Shaw, of Paved with Good Intentions: Canada's development NGOs from idealism to imperialism. Republished with permission. Originally published on March 1, 2023 by The Breach.